Fukushima Accident Updates (Blog)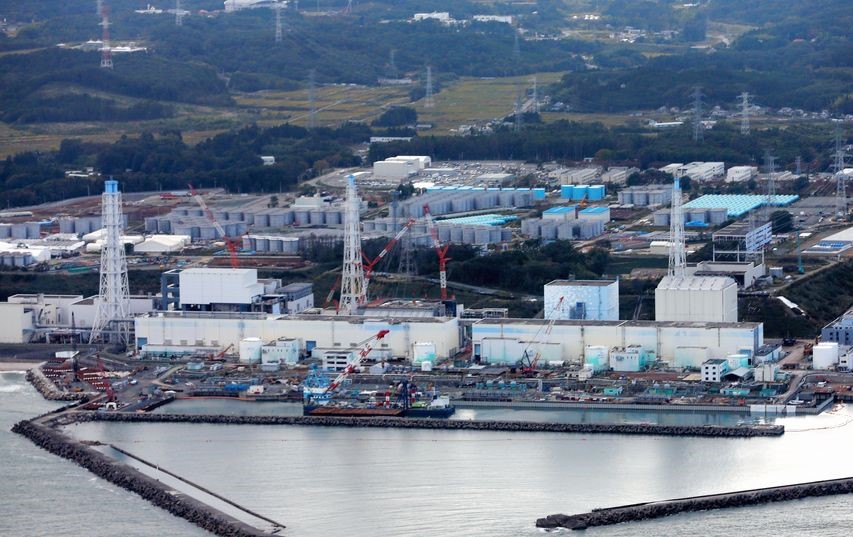 Your most reliable source of objective Fukushima News. No "spins"...just summaries of news reports in Japan's Press, which calls the Fukushima accident a nuclear disaster. 
There are regularly-updated pages on this site concerning popular Fukushima issues, such as  Fukushima Evacuee Compensation Payments (updated monthly)!

E-BOOKs - "Kimin: Japan's Forgotten People" - the untold story of Japan's 300,000 tsunami refugees, ignored by the world's news media. Available at all E-book stores/sites... Click here for more...
Fukushima: The First Five Days... taken from the hand-written staff records at Fukushima Daiichi the first five days of the crisis. Available here and all E-book stores. Click here for more...
Please make a 2020 donation
January 24, 2020
The latest monthly data on Fukushima evacuee compensation has been posted. https://www.hiroshimasyndrome.com/fukushima-evacuee-compensation-payments.html
The 2020 Olympic Torch relay will include Futaba. While the entire town is currently under a Tokyo-mandated evacuation order, part of it is scheduled to be re-opened on March 4th. This will be well-before the ceremonial relay of the Olympic Flame begins from the Fukushima J-Village on March 26th. The route was formally approved by Fukushima's torch relay committee on Wednesday. The route will pass through 25 Fukushima municipalities before it leaves the prefecture to traverse the other 46 prefectures of the island nation, culminating in Tokyo's new Olympic stadium. Fukushima governor Masao Uchibori said that adding Futaba Town to the route sends a strong positive message to people inside and outside Japan. Both of F. Daiichi's host towns -- Futaba and Okuma -- will now be part of the pre-Olympic mega-marathon of relays for the torch. The Olympic torch will arrive in Japan March 20th in Ishinomaki, and pass through Miyagi and Iwate Prefectures by train before arriving at the J-Village. https://www3.nhk.or.jp/nhkworld/en/news/20200123_31/ -- https://jen.jiji.com/jc/eng?g=eco&k=2020012300706 -- https://mainichi.jp/english/articles/20200118/p2g/00m/0sp/034000c
On January 17th, Tokyo decided to lift evacuation orders for parts Futaba, Okuma, and Tomioka Towns. This marks the first time lifting restrictions for any part of Futaba has been considered. It will positively affect 229 former residents in 75 households, and the new JR Joban train station. The Futaba restrictions will cease on March 4th, while sections of Okuma and Tomioka will experience the same on March 5th and 10th, respectively. Minister Kazunori Tanaka of the Reconstruction Agency said that this is a major step forward for Fukushima reconstruction and serves to refute unfounded rumors. https://www.jaif.or.jp/en/evacuation-orders-for-futaba-okuma-tomioka-towns-to-be-partially-lifted-in-march-with-jr-joban-line-to-be-completely-reopened-for-service/
10 kilograms of Fukushima's specialty persimmons have been shipped to the United Arab Emirates. This is the first export of the fruit outside Japan since the March 2011 nuke accident. The dried fruit is considered a favorite in the UAE. The Japan Agricultural Cooperatives and Fukushima government hopes this will be a stepping stone for other Middle Eastern markets. Additionally, several hundred kilograms of the "ampo-gaki" fruit is planned to be shipped to Thailand this winter. 1,231 tons of ampo-gaki were shipped from the Prefecture in 2010. The crop totaled 930 tons in 2018. http://www.fukushimaminponews.com/news.html?id=987
A Fukushima farming couple hopes to spur prefectural recovery with milk from Jersey cattle. Their farm is in Samegawa Village, some 100 kilometers from F. Daiichi. But, its reputation has been stigmatized because it is located in Fukushima Prefecture. The Jerseys are from a breed specific to the British Channel Islands and are known for a high-quality milk rich in crème. The farm is run by Daisuke and Nana Shimizu Daisuke says, "We want to be a symbol, a model, for children...who want to try their hand at dairy farming or agriculture." Jersey milk is considered a specialty since 99% of Japan's milk comes from Holsteins. https://japantoday.com/category/national/feature-couple-dreams-of-revitalizing-fukushima-with-jersey-milk
The IAEA focuses on the importance of the NRA's nuclear energy communication. On January 21, an eight-day mission by the Integrated Regulatory Review Service (IRRS), a team of experts sent by the International Atomic Energy Agency (IAEA), ended. Team leader Ramsey Jamal, vice president of the Canadian Nuclear Safety Commission (CNSC), said Japan has made "quite significant improvement" in nuclear safety since the last IRRS visit, four years ago. One area stressed was improving training for regulatory inspectors and facilitating access to nuclear stations. However, Jamal added, "Although the independence of the regulatory body (i.e. the Nuclear Regulation Authority) should never be impaired, its communication with the industry contributes to nuclear safety" and could be improved. NRA Chairman Toyoshi Fuketa thanked the IRRS and said,  "…neglecting continuous improvement would never be allowed." https://www.jaif.or.jp/en/finishing-mission-in-japan-iaeas-irrs-points-out-importance-of-nras-communicating-with-nuclear-industry/
Tepco expands its 40 years estimate for F. Daiichi decommissioning to 44 years. The revised schedule has four stages:  10 years for the first stage, 12 years for the second stage and 11 years each for the third and fourth stages. The first stage will focus on surveying radioactive contamination, the second on clearing equipment around the four damaged units, the third on the removal of the reactors, and the fourth on demolishing the reactor buildings. Tepco will submit its new plans to the Nuclear Regulation Authority after getting approval from the municipal governments of Tomioka and Naraha, as well as the Fukushima Prefectural Government. https://www.japantimes.co.jp/news/2020/01/23/national/tepco-fukushima-decommissioning/#.Xinx9DJKiUl
The head of the NRA defends its safety assessment of Ikata nuclear station, despite the recent Hiroshima High Court ruling that ordered closure of fully operational unit #3. The court said the unit's operation poses an undue danger to local residents, and the NRA underestimated the impact of the eruption of a volcano some 130 kilometers away. It also said the presence of a fault line near Ikata needed more attention. NRA Chairman Toyoshi Fuketa defended the conclusions of the Ikata unit #3 safety assessment, but said he has no intention of interfering with the court's decision. https://www3.nhk.or.jp/nhkworld/en/news/20200123_13/
January 17, 2020
January 10, 2020
January 3, 2020
The Tokyo Education Ministry is surveying the need for radiation education in schools. Indications suggest that the need to teach the subject is waning! The subject of radiation had not been included in science classes at the junior high school level for about 30 years, prior to the 2011 nuke accident. Almost immediately, the number of schools teaching about radiation literally sky-rocketed. Fukushima University Professor Katsuhiko Yamaguchi says efforts to teach children about radiation have been declined over the past few years. The ministry will canvas some 4,500 schools to compile the data specific to need. https://www3.nhk.or.jp/nhkworld/en/news/20191229_04/
Japan hopes Chinese President Xi Jinping's upcoming visit will ease the ban on Japanese food. Currently, bans on agricultural, forestry, fish, and other food products from some Japanese prefectures continue unabated. The stated reason is possible F. Daiichi accident contamination. Statistics show that only 0.1% of all these products have failed Japan's extremely low standrds since 2015!
December 27, 2019
December 20, 2019
The most recent pay-out figures have been posted here... https://www.hiroshimasyndrome.com/fukushima-evacuee-compensation-payments.html
December 13, 2019
December 6, 2019
November 29, 2019
November 22, 2019
The latest data for Fukushima evacuee compensation payments has been posted… https://www.hiroshimasyndrome.com/fukushima-evacuee-compensation-payments.html
 Next page - https://www.hiroshimasyndrome.com/fukushima-123-10-18-19-11-15-19.html