This site requires a lot of work. We hope you find our efforts valuable and rewarding. Please consider offering your support. There is no minimum amount. Feel free to donate as you see fit, without restriction. Thank you...



Fukushima Accident Updates (Blog)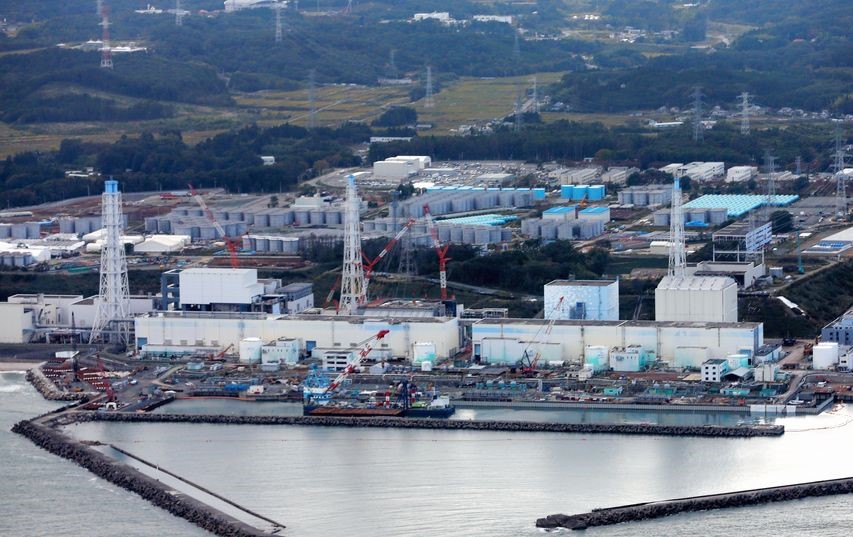 Your most reliable source of objective Fukushima News. No "spins"...just summaries of news reports in Japan's Press on Fukushima Daiichi, often called a nuclear disaster.

E-BOOKs - Fukushima: The First Five Days... taken from the hand-written operator's records during the first five days of the Fukushima Daiichi crisis . Available here and all E-book stores. Click here for more...
"Kimin: Japan's Forgotten People" - the untold story of Japan's 300,000 tsunami refugees, ignored by the world's news media. Available at all E-book stores/sites... Click here for more...
Please make a Fukushima Update donation to keep this page financially viable! Scroll to the bottom of the menu on the left, and click on the donation button. THANK YOU!!  
 October 22, 2021
Japan's #3 newspaper posts a brief fact sheet on the future F. Daiichi waste water release. It is designed to explain why the ALPS-treated water needs to be released, and a bit about how it will be done. The Mainichi is historically antinuclear, but this article is not.

https://mainichi.jp/english/articles/20211021/p2a/00m/0op/019000c

Prime Minister Fumio Kishida visited F. Daiichi on October 17th. He toured the plant site, but was most surprised by the roughly 1,000 large ALPS-treated wastewater storage tanks. He told the press that seeing the huge number of tanks, he realized the importance of the release issue, adding that action could not be postponed. Kishida said, "Working together with the IAEA, the Japanese government will act transparently and explain the safety of the water from a scientific point of view. We will make full efforts to eliminate concerns." He added that his government would focus on getting NRA-approved nukes restarted. The previous day, the PM went to the tsunami-devastated Rikuzentakata and Ofunato in Iwate Prefecture, as well as Ishinomaki and Matsushima in Miyagi Prefecture. He sat down with community leaders to learn about the impact of the disaster and COVID epidemic, first hand. https://www.jaif.or.jp/en/kishida-makes-first-visit-to-fukushima-since-becoming-prime-minister/ – https://www.tepco.co.jp/en/hd/newsroom/announcements/archives/2021/20211017_02.html - https://www3.nhk.or.jp/nhkworld/en/news/20211016_17/

An "exchange center" opens in Okuma and a coming-of-age ceremony was held. Coming-of-age is celebrated when a young adult turns 20. The ceremony is held annually, but was curtailed the last two years due to the COVID pandemic. It is also the first ceremony held in Okuma since Tokyo mandated a full evacuation in 2011. The Center houses a multipurpose hall and a music studio, as well as other public areas. http://www.fukushimaminponews.com/news.html?id=1079

An elementary school in Namie damaged by the 2011 tsunami was shown to the Press on Oct. 7 as one of the Prefecture's first relics of the disaster. The town was hit by a tsunamic surge over 15 meters high, sweeping away the lower level of the school, leaving only the remains of the steel and concrete skeleton. A teacher credited with saving students on that terrible day emphasized the significance of the event, saying, "I hope this will be an opportunity for people to reconsider disaster prevention in their own communities and workplaces." The principal also spoke and said, "For disaster prevention education, it is most important for people to see the real thing firsthand. I hope many people will visit (Ukedo) school since this much of the facility has been preserved."https://mainichi.jp/english/articles/20211015/p2a/00m/0na/053000c

The head of the Nuclear Regulation Authority orders an immediate inspection of the Kashiwazaki-Kariwa plant site in Niigata Prefecture. This is because of reports earlier this year that a series of serious breaches of anti-terrorism measures occurred. The plans are apparently to determine whether TEPCO implemented measures to prevent a recurrence. NRA chair Fuketa Toyoshi said that the company's headquarters has taken the situation seriously, but not by people working at the plant. https://www3.nhk.or.jp/nhkworld/en/news/20211020_17/

A planned nuclear waste storage site in Hokkaido is a major political issue... perhaps the only issue in the local election! After being elected unopposed as mayor of Suttsu four consecutive times, another candidate is running against him, entirely because Mayor Haruo Kataoka approved the first stage of the formal selection process for literature research where existing data and documents are examined. The town has not had an actual election in 20 years! The issue has fractured the community of about 2,900. One local fisherman said, "Whichever candidate wins or loses, the town's deep division will continue to remain." The reason for the discord is because many don't want anything nuclear near them, and others want the rather generous subsidy money given by Tokyo. Kataoka wanted the money to revive the fishing industry that has been damaged due to COVID restrictions. He says, "I can feel how the pros and cons are among town residents in my heart." He is opposed by Yoshiki Echizenya, a former town assembly member, is running because his call for a town referendum was ignored by the Mayor, He says, "First of all, we should listen to the voices of all residents. The town should not depend on government subsidies for its financial management." https://www.asahi.com/ajw/articles/14465426 - https://jen.jiji.com/jc/eng?g=eco&k=2021102101149
October 15, 2021
October 8, 2021
October 8, 2021
October 1, 2021
The removal of America's bans on Fukushima imports is explained. The move should assist in removing the negative reputation on food from the prefecture. Continuing restrictions flies in the face of scientific results and safety data. America is the world's largest importer of Fukushima products, mostly with respect to beef. U.S beef shipments were running at several hundred kilograms a year before the nuke accident, but rose to a record high of 4,577 kg in fiscal 2018. Japan expects the total lifting of restrictions will further increase beef exports. Of the 55 countries that effected restrictions on Fukushima products, only 14 remain. Fukushima Gov. Masao Uchibori said, "The elimination of all import restrictions on Japanese agricultural, forestry and fishery products by the United States, an important trading partner for these products, will affect other countries that are still restricting their imports, taking a major step toward dispelling bad rumors about our prefecture."http://www.fukushimaminponews.com/news.html?id=1076

Japan's NRA will conduct an on-site inspection of Tepco's Kashiwazaki-Kariwa station. The Nuclear Regulation Authority is under pressure to investigate into the breaches of anti-terrorism measures at the station. Last week, Tepco submitted a report on its investigation as to whether or not the safety of the K-K units has been compromised. NRA Chairman Fuketa Toyoshi says the inspection is to confirm or deny the contents of the report. Tepco wants to load fuel into both units, but the NRA has banned fuel loading until the situation can be shown to have sufficiently improved. Tepco desperately needs the cash flow from restarting both units. https://www3.nhk.or.jp/nhkworld/en/news/20210929_28/
September 24, 2021
September 17, 2021
Another Boiling Water Reactor unit passes the safety check for restart. This time it is a boiling water reactor system (BWR). It is Shimane unit #2, located in the prefecture after which the unit is named. It has an output capacity of 820 MW electrical and is the 17th unit approved by the Nuclear Regulation Authority for restart under Japan's stricter regulations following the 2011, tsunami-caused Fukushima accident. It still needs consent of the Shimane prefectural government and the Matsue (capital) city government to restart. To date, the prefectural governor and the Matsue mayor have not indicated any opposition. Work on the yet-to-be-completed 1,370 MW unit #3 continues. Chugoku Electric President Mareshige Shimizu says the two units "will bring benefits that match our investment once they are put into operation."The screening process for unit #2 took more than 7½ years due to official disagreement on the scale of a theoretical future earthquake. As a result, the original estimate of 600 gals acceleration was increased to 820 gals, and maximum tsunami height from 9.5 to 11.9 meters. The local evacuation plans were approved by Tokyo on September 7th. Chicogu Electric wants to restart at some point after March, 2022. Shimane #2 is the fifth Japanese BWR approved for restart. NRA approval verifies the unit's regulatory compliance with respect to natural disasters, including tsunami and volcanic events, with reference to meteorological phenomena and geological data based on the newest edition of the Chronological Scientific Tables.https://the-japan-news.com/news/article/0007776371 –- https://www.asahi.com/ajw/articles/14441672 – https://www.jaif.or.jp/en/nra-permits-shimane-2-under-new-regulatory-standards/

Japan Agricultural Cooperatives (JA) reduces subsidies to Fukushima rice growers due to slumping demand. The subsidies will drop between 2,600 yen to 3,200 yen per bale (60 kilograms), down to as low as 9,500 yen, for main varieties compared with their 2020 levels. In 2019, rice production in Fukushima cost 11,629 yen per bale on average. The reason for the government outlay is that a farmer's cost for production is much less than the market value in Tokyo. The new cost estimates reflect a nationwide decline in Japanese consumption due to a shrinking population and impact of the COVID pandemic, both of which that contributed to Japanese inventories to increase, beginning in 2020. http://www.fukushimaminponews.com/news.html?id=1074
September 10, 2021
A team of IAEA experts will assist in preparing for the release of essentially harmless F. Daiichi wastewater. They arrived in Japan on Tuesday, September 7th, and plan to leave on Friday, September 10th. Headed by Lydie Evrard, head of the International Atomic Energy Agency's Department of Nuclear Safety and Security, is compiling information for a review of the discharge plans.Evrard stated, "The agency is firmly committed to ensuring that the review is comprehensive and objective and that the results are conveyed to the international community." The team met with Japanese officials in Tokyo to begin what will be a two decade oversight of the releases through an underground tunnel. IAEA Director General Rafael Mariano Grossi said,"The Agency is supporting Japan to ensure that the entire operation to discharge the water over the coming decades is conducted in a way that is consistent with international safety standards." The team will also visit South Korea and China, as well as domestic fishing villages where objections to the release have been raised. https://japantoday.com/category/national/iaea-team-in-japan-to-help-prepare-fukushima-water-release -– https://www3.nhk.or.jp/nhkworld/en/news/20210907_18/ -- https://english.kyodonews.net/news/2021/09/88db03b66061-iaea-to-review-water-release-plan-at-fukushima-nuke-plant-in-dec.html –- https://photo.tepco.co.jp/en/date/2021-e/202109-e/210909-01e.html

The IAEA says science is the key to F. Daiichi wastewater releases. The agency's Lydie Evrard said her team and the Japanese discussed data necessary for a safe and transparent plan, plus how to share information with concerned communities in Japan and abroad. She added that the project is unique because of "the technical specifics, the duration of the release, and the level of international and regional interest and scrutiny that the plan will receive." Evrard said that team will have members from multiple countries, possibly including China and South Korea, for greater transparency and to address diverse views. https://www.asahi.com/ajw/articles/14437762

Japan's NRA will replace radiation monitors in Fukushima Prefecture. There are about 3,000 monitoring posts were set up at schools and other locations. The Nuclear Regulation Authority felt the monitors good until at least 2026, but local paranoiac opposition made the watchdog agency move the replacement dates up. The NRA considered removing 80% of the posts completely because nothing of significance had been detected for several years, but local concerns about radiation could not be quelled. So, 300 per year will be refurbishe3d or replaced per year, as needed. https://www3.nhk.or.jp/nhkworld/en/news/20210905_04/
September 3, 2021
 

Tokyo confirms the lifting of evacuation mandates for those who want to go home by 2030. The government promises to do whatever is necessary for

former residents

who wish to return home. Prime Minister Suga says,

"On the basis of this plan, we'll carry out decontamination work while holding adequate discussions with the local communities, so that we can lift evacuation orders to allow all residents to return if they wish to do so."

He added that the entire Cabinet will make full efforts with the recognition that they are all ministers in charge of recovery.

Roughly

20,000 people are registered as residents in the remaining difficult-to-return zones.

Those who do not want to go home will not be compelled to do so.

https://www3.nhk.or.jp/nhkworld/en/news/20210831_21/

-

https://jen.jiji.com/jc/eng?g=eco&k=2021083100657

An IAEA team cannot say F. Daiichi cleanup will be done by 2051. This is because too little is known about the corium still inside the containments of the three meltdowns. Leader Christophe Xerri says, "Honestly speaking, I don't know, and I don't know if anybody knows." He wants Japan to speed up studies of the reactors to get a better long-term grasp of decommissioning. His main concern is, "We need to gather more information on the fuel debris and more experience on the retrieval of the fuel debris to know if the plan can be completed as expected in the next 30 years." He added that research and development of new technologies needed for the cleanup could take as long as two decades The IAEA team review was conducted remotely, primarily on-line. https://www.asahi.com/ajw/articles/14428063

Fukushima fishermen pressure Tokyo to gain consumer trust at an on-line meeting. The government explained its measures to prevent damage, including a temporary program to use state funds to purchase Fukushima fishery products if the market dwindles. Trade and Economy Minister Kiyoshi Ejima said, "We'll take necessary measures flexibly." Regardless, The fisheries still stubbornly oppose the release of treated water containing harmless Tritium, only because it is mildly radioactive. https://jen.jiji.com/jc/eng?g=eco&k=2021082800491

Hackers tried to get F. Daiichi computer data from Fujitsu Ltd. Search history of data from the attack revealed that the hackers wanted information about the Olympics and nuclear power plants. Several government agencies confirmed the information breach. Specifically, the incursion was limited to information about equipment used in Fujitsu's information management system, meeting memos and records. One official said, "The breached data might have included information that could lead to the computer systems of the government." The incursion has been linked to a Chinese-backed cyber group. https://www.asahi.com/ajw/articles/14430219
August 27, 2021
Opinion - "Tainted" and "contaminated" press terminology sends the wrong message about F. Daiichi wastewater releases. The terms make it seem as if the water to be released will be dangerous and potentially deadly, which is clearly not going to be the case. After sufficient passes through the Advanced Liquid Processing System (ALPS), and further dilution with seawater to bring essentially harmless Tritium to about 1/40th of Japan's overly-restrictive standards, the waters to be released will not merit the negative sobriquets. It seems the Press wants to keep its anti-nuclear agenda vibrant and doesn't care about the reputational damage it is inflicting on Fukushima's fishing industry! Thus, we have decided to eliminate such disparaging terms from our reporting of the Fukushima wastewater issue!
Now, here's the Fukushima news from the past week...
Next page - https://www.hiroshimasyndrome.com/fukushima-131-7-16-2021-8-13-2021.html