This site requires a lot of work. We hope you find our efforts valuable and rewarding. Please consider offering your support. There is no minimum amount. Feel free to donate as you see fit, without restriction. Thank you...



Fukushima Accident Updates (Blog)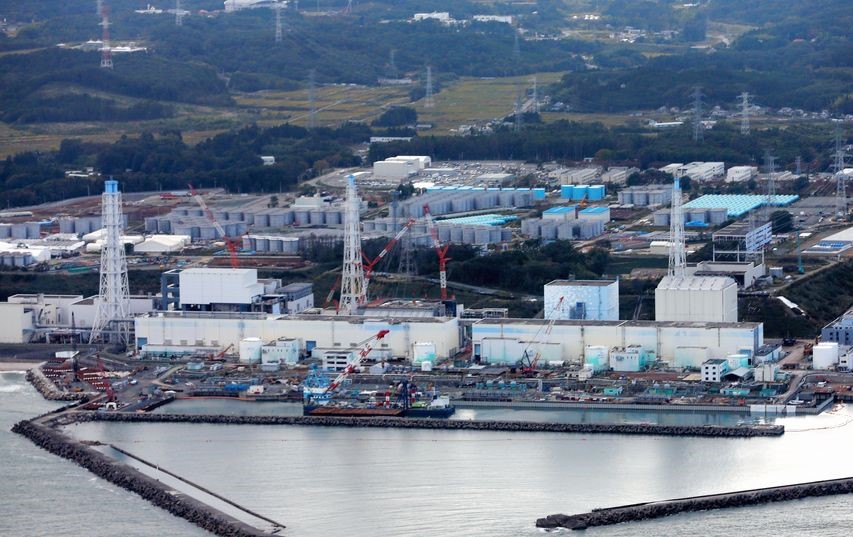 Your most reliable source of objective Fukushima News. No "spins"...just summaries of news reports in Japan's Press, which calls the Fukushima accident a nuclear disaster. Post are made weekly on Thursdays.
There are three regularly-updated pages on this site concerning popular Fukushima issues; Fukushima Evacuee Compensation Payments (updated monthly), Fukushima Child Thyroid Cancer s and  Fukushima Radiation on North America's West Coast? 
E-BOOKs - "Kimin: Japan's Forgotten People" - the untold story of Japan's 300,000 tsunami refugees, ignored by the world's news media. Available at all E-book stores/sites... Click here for more...
Fukushima: The First Five Days... taken from the hand-written staff records at Fukushima Daiichi the first five days of the crisis. Fukushima : Available here and all E-book stores. Click here for more...
Please make a WINTER donation.
February 15, 2018
Two American mothers accept the challenge of Fukushima fear-mongering. Kristin Zaitz and Heather Matteson launched their website "Mothers for Nuclear" in 2016. Their objective, no-nonsense approach has been attacked with a "barrage" of antinuclear criticism since the site's inception. A common objection was that both women should actually go to Fukushima to find out that nuclear energy is really dirty and inordinately dangerous. Early this month they actually spent the time and money to visit Fukushima. Other than small mountains of large black bags filled with various types of detectibly radioactive debris, they found was the opposite of the horrendous-sounding problems spouted by the anti-nuclear demographic. Perhaps their most-telling statement is, "Callous exaggerations of the dangers of low level radiation and the branding of the Fukushima prefecture as a toxic disaster zone is a shameful attack on the many beautiful citizens of this area, their livelihoods, their identities, and their futures." Kirsten's report is well worth the time it takes to read it! https://mothersfornuclear.org/our-thoughts/2018/2/8/firsthand-in-fukushima
Namie decontamination to begin in May. The devastation along the Pacific shoreline has already begun recovery, as well as with seven northern districts. But, 80% of the municipality remains under the Tokyo-mandated evacuation order. The initial work will cover about 30 hectares (0.3 km2), and the total planned by 2023 is 660 hectares (6.6 km2) is less than 4% of the remaining restricted zone. Decontamination in Namie will begin some two months after the same type of work will begin in Okuma. https://mainichi.jp/english/articles/20180215/p2g/00m/0dm/069000c
Namie plans to resume rice planting in the spring, specifically seven northern districts: Tatsuno, Kariyado, Sakata, Fujihashi, Nishidai, Kitakiyohashi and Kitatanashio. Some of the municipality had its evacuation order lifted by Tokyo last March, allowing work to restore irrigation waterways for rice paddies. Of the 1,200 hectares of pre-2011 paddies in Namie, it is expected that up to 430 hectares will be planted this year. The problem is that there could be a shortage of people to work the paddies because many have moved and set down new life-roots elsewhere. A town official said, "We would like to throw our full support behind farmers who are trying to stand on their own feet amid the difficult agricultural environment stemming from protracted evacuation." Only about 500 of the more than 18,000 former residents have repopulated Namie. http://www.fukushimaminponews.com/news.html?id=878
February 8, 2018
Radiation exposure due to the Fukushima accident is measured in "round-trip transoceanic" units, i.e. the amount of exposure due to flying across the Pacific Ocean and back. The typical person living in Japan received the equivalent of five transoceanic units, and the average Canadian was given one transoceanic unit from the nuke accident. This unique analogous method was presented by Nikolaos Evangeliou of the Norwegian Institute for Air Research at the annual meeting of the European Geophysical Union earlier this year. The estimated levels of exposure were deduced by studying the atmospheric Cesium-137 concentrations recorded by the international Comprehensive Test-Ban Treaty Network. https://fukushimainform.ca/2017/05/09/the-fate-of-atmospheric-fukushima-radiation/
The percentage of Fukushima foods in school lunches returns to pre-2011 levels. The rate was 36% before the nuke accident, and dropped to around 18% the year after (2012). In 2017, it had returned to 36%. There is a target of 40% for 2020. The prefectural official in-charge said, "There are still parents who are concerned about this, and it is natural for them to be so. We will listen closely to them as we continue our inspections and public information activities." The prefecture regularly posts the results of random tests of school lunch food for contamination. Although the prefecture's limit is more limiting than the national standard, the levels have never exceeded it. http://www.jaif.or.jp/en/usage-rate-of-locally-produced-materials-in-fukushima-prefecture-school-lunches-returns-to-pre-accident-levels/
F. Daiichi's new rubble storage facility is shown to the Press. The building was completed in time to begin rubble removal from unit #1 last month. Debris from the 2011 hydrogen explosions is strewn atop units #1 & #3, impeding efforts to prepare for the removal of fuel bundles from the Spent Fuel Pools. The storage facility is a four-story structure, with two stories above ground and two below ground. The less radioactive debris will be placed in the upper two stories, and the highly radioactive material in the underground stories, using the earth as an effective radiation shield. https://www3.nhk.or.jp/nhkworld/en/news/20180208_32/
A Tokyo court awards more than $10 million in compensation to 318 Minamisoma residents. The Odaka District of the city was part of the Tokyo-mandated evacuation population in 2011. 321 of the district's residents filed a suit for an additional total of nearly $100 million for psychological damage, but the court decided that the amount was not reasonable and cut it by roughly 90%. However, three of the plaintiffs were denied compensation because they lived overseas at the time of the accident. Each qualified plaintiff will receive about $30,000. All Odaka evacuees had already been awarded more than $75,000 for psychological damage, but the 321 who filed the suit said it was not nearly enough. They also feel they were slighted by this latest court award. Junichiro Hironaka, the plaintiffs' lead lawyer, said, "…the amount of compensation ordered does not correspond to the actual damages they suffered." There is no mention in the Press reports of every man woman and child having already received roughly $400,000 in personal compensation, and each Odaka District homeowner and/or business proprietor gaining millions of dollars in compensatory restitution. It should be noted that most Odaka District evacuees had their personal compensation payments stopped in July, 2017. – one year after the evacuation order was lifted. https://mainichi.jp/english/articles/20180207/p2g/00m/0dm/064000c -- http://www.asahi.com/ajw/articles/AJ201802080065.html  
The above Press article adds that 2,400 of the 12,800 Odaka evacuees have returned home.A 19% repopulation level is one of the most significant of the old no-go zone and should have garnered its own news story. But, the Mainichi merely mentioned it in the mid-body of the posted report. Once again, good news about the repopulation is virtually ignored.
Tepco posts the full handout of last month's investigation inside the unit #2 pedestal. The handout says no damage to the pedestal was observed, also no damage to the CRD replacement mechanism (with a picture of it). The new information includes area radiation measurements at for levels inside the pedestal. Surprisingly, the radiation readings were essentially the same from the personnel platform beneath the CRDMs, down to just above the cable tray encircling the bottom of the pedestal; about 8 sieverts per hour. Logically, if the debris on the cable tray is really re-solidified corium (formerly melted fuel), the radiation readings should have increased as the probe approached the cable tray. They didn't! Another oddity was that the radiation levels outside the pedestal were actually higher than inside the pedestal, measuring over 40 Sieverts per hour. Several speculations on these peculiarities were offered by NHK World. https://www4.tepco.co.jp/en/nu/fukushima-np/handouts/2018/images/handouts_180201_01-e.pdf --  https://www3.nhk.or.jp/nhkworld/en/news/20180201_40/
This record-cold winter underscores Japan's need for nuclear energy. Since the start of the nuclear moratorium in 2011, Tepco has totally relied on old, inefficient fossil-fueled (thermal) units and power bought from neighboring utilities to meet the peak demand periods of summer and winter. Since January 23rd, frigid temperatures have forced customers to use excessive amounts of electricity, with a peak of more than 51 gigawatts on Jan. 26. All thermal plants were at full power. A TEPCO official said, "We are in a situation in which all the thermal power plants have to be operated at full capacity."  With snow covering solar panels, Tepco would have been forced to effect large-scale blackouts if it were not for purchased power. Even then, similar weather conditions across the Kanto region limited available electricity. One industry expert said, "In the worst case, there was the risk of a large-scale power cut." Tokyo is not out of the woods, as yet. Harsh weather is expected to continue well into February. http://the-japan-news.com/news/article/0004222896
Sendai unit #1 had a capacity factor of 106.7% last year. Capacity factor of a power plant is the ratio of actual output to its potential output, if it were possible for it to operate at full nameplate capacity indefinitely. Anything over 90% is considered exemplary. Sendai #1's best previous record was 2009 with a 105% capacity factor. http://www.jaif.or.jp/en/capacity-factor-of-sendai-1-last-year-was-106-7/
An emergency evacuation drill for the area around Sendai station is a success. The drill was ointly organized by the Kagoshima prefectural government and nine municipalities within 30 kilometers of the nuclear plant. About 4,400 people participated, including 1,800 local residents. Those living within 5 kilometers of the nuke were asked to evacuate by bus and personal vehicles. After they were out of the area, residents beyond 5 kilometers were told to vacate the region. This was the third such drill associated with Sendai station since 2015. https://jen.jiji.com/jc/eng?g=eco&k=2018020300370
Tomioka Town schools will reopen in April with about 30 students! Prior to the F. Daiichi accident, there were roughly 1,400 students enrolled. Last June, the Tomioka School Board surveyed former residents and found that only about 2%planned to return home, 11% said they "cannot make a decision", and the rest said they would not return. Thus, the town has made the schools a community hub to link the schools with the returning townspeople. http://www.fukushimaminponews.com/news.html?id=877 
70% of Japan's utilities continue to experience falling profits due to the 2011 nuke moratorium. The three that have recovered somewhat are Kansai, Shikoku, and Okinawa Electric Companies. Kansai attributed the recovery to restart of its Takahama nuclear units 3 & 4. Shikoku profits have been bolstered by the power resumption of Ikata nuclear unit #3. Okinawa says their increased cash flow is due to cutting repair and maintenance expenses. While sales increased for all tem major utilities, the high cost of fossil fueled power resulted in less profits for seven of the companies. http://www.jaif.or.jp/en/seven-of-japans-ten-power-companies-see-falling-profits-due-to-higher-fuel-costs-key-is-restarting-npps/ -- http://www.jaif.or.jp/en/shikoku-electric-power-enjoys-increased-revenues-after-ikata-3-restart/
February 1, 2018
January 25, 2018
Tepco's investigation inside the unit #2 RPV pedestal with a telescoping device began last Friday. The new device we reported in our 1/11/18 Update, was used on the 19th and preliminary images were released to the Press. Several days of news stories followed, most claiming that re-solidified fuel debris was discovered.
Friday, January 19 - Tepco's Press statement announces the first device insertion and provides details on the technology. http://www.tepco.co.jp/en/press/corp-com/release/2018/1473819_15409.html  A handout given to the Press graphically depicted the initial insertion and displayed images captured by the small camera on the end of the telescoping mechanism. The images show the underside of the Reactor Pressure Vessel and the debris-strewn cable tray that encircles the bottom of the pedestal area. The picture of what seems to be a hold-down clamp for a Control Rod Drive Mechanism appears to be intact, contrasting many of the CRDM clamps depicted in the unit #3 images from last year. The unit #2 Fuel Assembly replacement mechanism and the "Middle Work grating" attached to it, also appeared to be intact. This is completely unlike the unit #3 images where the mechanism and its work grating are nowhere to be found. No holes in the work platform grating were observed. Images of the cable tray depict what seems to be "sandy, clay-like deposits" and fallen fuel assembly component debris, mixed with "deposits thought to be fuel debris". There is no mention of the observed debris containing formerly molten corium from inside the RPV. http://www.tepco.co.jp/en/nu/fukushima-np/handouts/2018/images/handouts_180119_01-e.pdf  Japan's Pres provided scant coverage of Friday's investigation. NHK World says that Tepco "confirmed… the existence of chunks that are believed to be a mixture of melted nuclear fuel and parts of bindings". However this assertion is nowhere to be found in the Tepco Press release or Press handout. On the other hand, Jiji Press merely announces the initial investigation and makes no mention of finding formerly molten corium.  https://www3.nhk.or.jp/nhkworld/en/news/20180119_34/ -- https://jen.jiji.com/jc/eng?g=eco&k=2018011900662
Saturday, January 20 - The Press continued the unit #2 "melted fuel" speculation. Asahi Shimbun - The Asahi quoted an anonymous Tepco official, "From the look of things, it must be nuclear fuel debris." The Asahi also alleged that one image showed a piece of the handle from a fuel bundle and that all of the fuel below the handle must have melted. In addition, The Asahi said the pebble-like debris in the images resembled material found at Three Mile Island. The Associated Press - reporter Mari Yamaguchi cited Tepco's spokesperson Takahiro Kimoto who said, "There is so much that we still haven't seen." Undeterred, Yamaguchi speculated that the images captured "most likely melted fuel", and that the pieces of debris resembling a fuel bundle handle was a "sign the rods melted and breached the bottom of the core." In both articles, there is no mention that the debris is actually located on a cable tray that surrounds the base of the pedestal, or that the existence of the fuel assembly replacement mechanism virtually assures us that an RPV bottom head breach did not occur! http://www.asahi.com/ajw/articles/AJ201801200017.html -- http://abcnews.go.com/Technology/wireStory/melted-nuclear-fuel-inside-fukushima-reactor-52460806
Monday, January 22 – Tepco posted the new video footage taken by the telescoping probe on Friday. The video shows "cooling water falling like rain" from the underside of the RPV onto the debris. How the piece of what seems to be a fuel bundle lifting handle came to be there is "unknown" because "no large hole has been found at the reactor's bottom." Further, Tepco advised that unit #2 damage appears to be less than with unit #3. Aside – In other words, the earlier speculation of the handle being a "sign the rods melted and breached the bottom of the core" is unfounded! - End aside. https://www3.nhk.or.jp/nhkworld/en/news/20180122_30/
January 18, 2018
January 11, 2018
January 4, 2018
December 28, 2017
December 21, 2017
 (next page http://www.hiroshimasyndrome.com/fukushima-114-10-26-17.html)