This site requires a lot of work. We hope you find our efforts valuable and rewarding. Please consider offering your support. There is no minimum amount. Feel free to donate as you see fit, without restriction. Thank you...



Fukushima Accident Updates (Blog)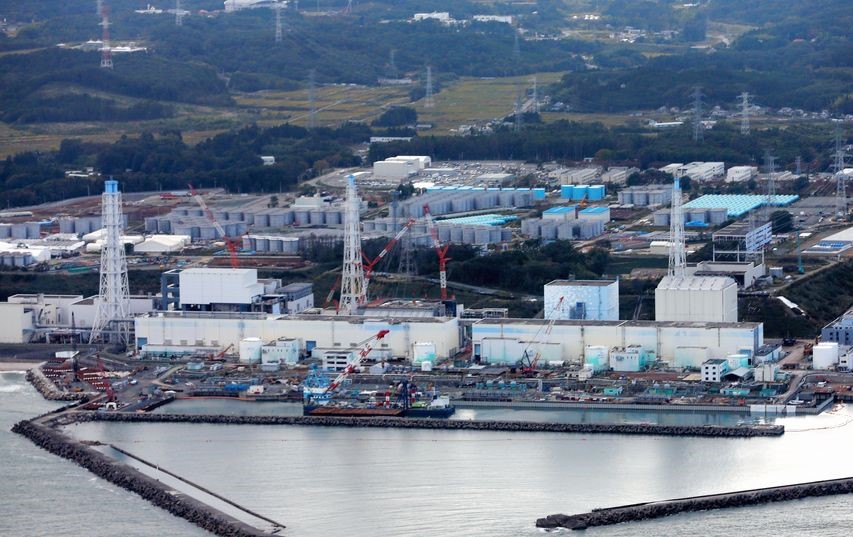 Your most reliable source of objective Fukushima News. No "spins"...just summaries of news reports in Japan's Press, which calls the Fukushima accident a nuclear disaster. Post are made weekly on Thursdays.
There are three regularly-updated pages on this site concerning popular Fukushima issues; Fukushima Evacuee Compensation Payments (updated monthly), Fukushima Child Thyroid Cancer s and  Fukushima Radiation on North America's West Coast? 
E-BOOKs - "Kimin: Japan's Forgotten People" - the untold story of Japan's 300,000 tsunami refugees, ignored by the world's news media. Available at all E-book stores/sites... Click here for more...
Fukushima: The First Five Days... taken from the hand-written staff records at Fukushima Daiichi the first five days of the crisis. Fukushima : Available here and all E-book stores. Click here for more...
Please make a WINTER donation.
April 19, 2018
Japan's first self-driving bus operates at Fukushima Daiichi. The French-made vehicle will eventually provide passengers with a choice of pre-programmed routes. It uses GPS to navigate. It can carry as many as 15 people with a maximum speed of ~10 miles per hour. The bus has sensors to keep it from getting too close the pedestrians or other vehicles. The bus is currently running a one kilometer route between the F. Daiichi station and the employee "rest facility". Plant official Tetsunori Kobayashi says the bus is supporting decommissioning work using new technology. https://www3.nhk.or.jp/nhkworld/en/news/20180418_30/
The possibilities improve for Kashiwazaki-Kariwa restarts because Niigata Prefecture's antinuclear governor will resign due to a sex scandal. On Tuesday, Governor Ryuichi Yoneyama admitted that he paid money to and bought gifts for a college coed in return for sex. Today, he admitted that he paid several women nearly $300 per meeting, possibly violating Japan's Anti-Prostitution Law. He met them through a dating site. Yoneyama won the governorship in 2016 on a largely antinuclear platform, in staunch opposition to restarting any of the KK units. He has repeatedly said he cannot decide on the operation of the K-K station until the prefectural government completes its assessment of the Fukushima accident. Spurred by this announcement, Kashiwazaki Mayor Masahiro said, "I will ask the new prefectural governor to start discussions on the restart as early as possible. In the NRA, excellent experts gave the green light to the two reactors after repeated discussions. It [would have been] impossible for the prefectural government to make its own judgment [on the restarts] by holding only several meetings a year." The two K-K units cleared the Nuclear Regulation Authority safety screening in December. PM Shinzo Abe supports restarting K-K units 6 & 7. Each is a 1315 MWe Advanced Boiling Water Reactor system. Tepco needs the K-K units operating to begin paying off the enormous debt incurred since March, 2011.  https://english.kyodonews.net/news/2018/04/98170af362c2-update1-governor-quits-over-sex-scandal-affects-nuclear-reactor-restart.html -- http://www.asahi.com/ajw/articles/AJ201804190046.html (Comment - we have suspected that Yoneyama was intentionally delaying the prefectural investigation into the F. Daiichi accident as a stalling tactic. It now seems that Yoneyama had no intention of ever completing the study! Holding but "several meetings a year" would have delayed restarts until after all seven units had passed Japan's arbitrary 40-year licensing limit. In other words the now-humiliated governor was effecting a ban on nuclear energy in his prefecture.)
Tepco apologizes to the family of a suicide victim, and the mainstream Press ignores it. On April 5th, three senior Tepco officials apologized to the grand-daughter of Fumio Okubo, who killed himself over the Tokyo-mandated evacuation of Iitate Village. This followed the awarding of about $145,000 damages by a Fukushima court on February 20th. One of the Tepco officials said, "We profoundly regret forcing Fumio-san to make such a heart-wrenching decision and we are terribly sorry. We will reflect on ourselves." Fumio's grand-daughter said, "I think grandpa must be glad to have you come all the way to Iitate where he lived until after turning 100." http://www.fukushimaminponews.com/news.html?id=888
April 12, 2018
April 5, 2018
March 29, 2018
March 22, 2018
March 15, 2018
The seventh anniversary of the Fukushima accident occurred on March 11th. This year is very different. There have been relatively few seventh anniversary articles.
First, something positive…
Fukushima InFORM has a seventh anniversary article on North American radiation monitoring. The peak Fukushima sea-water contamination level has been 8 to 10 times less than the peak levels recorded due to atmospheric nuclear weapons testing in the 1950's and 1960's. InFORM reports, "Levels measured now and predicted to arrive along the coast in the future will not approach levels known to represent a significant risk to the health of marine organisms or human beings," and, "Our coastal ecosystem and food supply are not at risk from these low levels of radioisotope contamination." With respect to contamination of Pacific Salmon and other food fish, InFORM says, "The ionizing dose from consuming these fish is insignificant relative to other sources of ionizing radiation dose experienced by members of the public in North America. No measurable health impacts are expected." The group's bottom line reads, "Consistent with model predictions and the measurements made by scientists around the globe, the FDNPP accident will not have measurable negative impacts on North America's marine ecosystems or public health. Levels of contamination are simply too far below those known to represent a threat to wildlife or human health." https://fukushimainform.ca/2018/03/09/update-on-fukushima-monitoring-activities-in-north-america-7-years-on/
Now, the reports of a negative nature…
A seventh anniversary summation of the latest post-accident mortality data is provided by NHK World. Most of the article will not surprise regular readers of this news-blog. One significant exception is the Reconstruction Agency reporting that at least 3,647 evacuees in 10 prefectures have died due to health problems and other reasons. https://www3.nhk.or.jp/nhkworld/en/news/20180311_04/
40% of the Fukushima evacuees in Niigata Prefecture have no intention of returning home. The most-cited reason for their refusal is fear of health effects from detectible residual contamination, followed by concerns about the future of children and a lack of available jobs. https://jen.jiji.com/jc/eng?g=eco&k=2018031200252
"Wastewater" stored at F. Daiichi tops a million tons! However, the news report fails to mention that some 850,000 tons have been decontaminated by the site's purification systems and could be harmlessly released to the sea, if not for phobic fear of all detectible radiation. But, the article does say that the rate of buildup has slowed since the ice wall has been completely frozen. https://jen.jiji.com/jc/eng?g=eco
We found only one tsunami disaster aftermath article…
Negative feelings towards the new Pacific-bordering sea walls are not uncommon. Initially, most survivors wanted the high sea walls to replace the breakwalls that failed to protect the city. But, as time has passed, some have become critical because they allege they were not consulted enough when the wall was in the planning stage. Others say the wall will damage the tourism business. A Rikuzentakata resident complains, "It feels like we're in jail, even though we haven't done anything bad." On March 11, 2011, nearly 2,000 of his neighbors died. One tourist says, "About 50 years ago, we came up here with the kids and enjoyed drives along the beautiful ocean and bays. Now, there's not even a trace of that." To counter such objections, the new wall in Kesennuma has windows in it to provide a view of the sea. But one resident who lost his home and brother to the black water surge complains, "They're a parody. It's just to keep us happy with something we never wanted in the first place." Near end of the article one person who sees the Kesennuma seawall as a benefit, I can't say things like 'the wall should be lower' or 'we don't need it'. It's thanks to the wall that I could rebuild, and now have a job." https://japantoday.com/category/national/wider-image-seven-years-after-tsunami-japanese-live-uneasily-with-seawalls
Now, for some other Fukushima news…
General comment – In the seven years we have dutifully reported on F. Daiichi, last year was the first that donations were actually less that the cost of maintaining this site. Please donate this year! – End comment.
March 8, 2018
March 1, 2018
 next page http://www.hiroshimasyndrome.com/fukushima115-1-4-18-1-11-18.html