This site requires a lot of work. We hope you find our efforts valuable and rewarding. Please consider offering your support. There is no minimum amount. Feel free to donate as you see fit, without restriction. Thank you...



Fukushima Commentary (blog)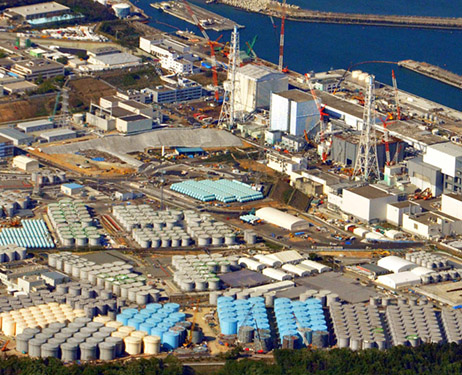 Op-Ed on the Fukushima accident is ongoing and if it has the potential for world-wide apocalyptic disaster. In addition, we have a regular hosting of the Carnival of Nuclear Energy Bloggers.
"Fukushima : The First Five Days"...a book taken from the records kept by the operating staff at Fukushima Daiichi during the first crucial days of the crisis. It is now available at all E-book outlets. For the PDF and bundle... (click here)
"Kimin: Japan's Forgotten People" - A book about the untold story of Japan's 300,000 tsunami refugees, ignored by the world's news media. For availability... (click here)
Please make a WINTER donation.
February 20, 2017
348thCarnival of Nuclear Energy Bloggers
The Hiroshima Syndrome's Fukushima Commentary is proudly hosting latest edition of the Carnival of Nuclear Bloggers. This week, we have postings by Dr. Gail Marcus, Dan Yurman, Dr. Jim Conca, and Meredith Angwin.
To read the full articles, please click on the individual links. Blog topics for this edition include… the Presidential appointment process, Toshiba's exit from the nuclear business, SMR Smart and the future of nuclear energy, and an endorsement for Meredith Angwin's new book from a fellow blogger.
* * *
From Dr. Gail Marcus at Nuke Power Talk –
Term Limits at DNFSB: Good or Bad?
In her last posting at Nuke Power Talk ("So You Want to be a Presidential Appointee?"), Gail related her personal experience with the presidential appointment process. This sparked several comments from her readers concerning the fact that board members holding terms that have expired can stay on. The thrust of the comments was that this is undesirable and may make experiences such as hers more likely. Several government boards and commissions that have somewhat different rules. In her blog, Gail reviews some of the differences, the history behind them, and the apparent effects of the alternative rules. http://nukepowertalk.blogspot.com/2017/02/term-limits-at-dnfsb.html
From Dan Yurman at Neutron Bytes –
Fate of Toshiba's Nuclear Projects Remains Uncertain
The company's self-inflicted troubles, caused by cooking the books and mismanagement of its major acquisitions in the nuclear sector, have impacted projects in the U.S., the U.K., and India. The firm said it would exit the nuclear business worldwide. https://neutronbytes.com/2017/02/19/fate-of-toshibas-nuclear-projects-remains-uncertain/
From Dr. Jim Conca at Forbes –
SMR Smart - Small Modular Reactors Are the Wave of Nuclear's Future
SMR Start is a new organization of potential customers and vendors investing in the development of advanced modular reactors (SMRs), formed to get SMRs over the initial market humps plaguing all new technologies, by using proven public-private partnerships. SMRs offer what we've always wanted – an economic, flexible, shippable reactor that cannot meltdown.http://www.forbes.com/sites/jamesconca/2017/02/16/smr-smart-small-modular-reactors-are-the-wave-of-nuclears-future/#6008ea32131a
From Meredith Angwin at Yes Vermont Yankee –
Meredith does something a bit different; she posts an endorsement for her new book at on Dan Yurman's blog…
Campaigning for Clean Air & Nuclear Energy
At Neutron Bytes, Dan Yurman welcomes Meredith Angwin's new book: Campaigning for Clean Air: Strategies for Pro-Nuclear Advocacy. Yurman's post includes several people's endorsements of the book. Meredith is grateful for this post. https://neutronbytes.com/2017/02/12/campaigning-for-clean-air-nuclear-energy/
February 8, 2017
Fukushima unit #2 radiation has not "spiked"… it has actually DROPPED!
On Thursday, February 2, 2017, Tepco posted images recorded inside the thick steel-reinforced concrete pedestal that supports the reactor pressure vessel (RPV) of Fukushima Daiichi unit #2. A company spokesperson explained what the images visually indicated, and mentioned that radiation had caused "flickers" in the pictures which were used to estimate the possible radiation levels inside the pedestal. No pictures or video had ever been taken inside an F. Daiichi RPV pedestal before. The spokesperson said an estimated radiation level of 530 Sieverts per hour was located immediately inside the pipe used to insert the video recording device. Two deeper locations were estimated at 20 and 50 Sv/hr, respectively. Only the 530 Sv/hr report resonated with the Press.
The 530 Sv/hr announcement sparked a news media feeding frenzy with the Japanese Press, some international Press outlets, and the antinuclear internet demographic. The Asahi Shimbun (1) exemplified the typical Japanese Press article by showing images provided by Tepco and mentioning the three radiation estimates inside the pedestal. But one Japanese outlet, the Japan Times, said the "blazing" radiation spurring outlets around the world to report that radiation levels at F. Daiichi were climbing… soaring to new heights! Yet, no such thing was happening! Either these reports were posted out of bold-faced ignorance on the part of the reporters, or they ignored the truth in order to post a really juicy tidbit to garner a surge in readership and its concomitant rise in advertising income. You can be the judge!
Some newspaper outlets, like The Guardian (3), stretched the truth until it broke. The lead blurb read "Radiation levels inside a damaged reactor at the Fukushima Daiichi nuclear power station are at their highest since the plant suffered a triple meltdown almost six years ago." India's India Times (4) said, "Radiation levels inside a damaged reactor at the Fukushima Daiichi nuclear power station are at their highest since the plant suffered a triple meltdown almost six years ago." Clearly, the intent was to make it seem that radiation levels had suddenly increased in an astronomical fashion. Even the usually reliable Forbes Magazine joined in. (5) Forbes said, "The level of nuclear radiation detected at the troubled Fukushima nuclear plant in Japan spiked on Thursday to its highest level since the triple core meltdown in 2011." (Emphasis added, again) This was not a subtle suggestion. It literally screamed that the radiation levels at F. Daiichi had suddenly soared! In all cases, the postings of radiation levels increasing at F. Daiichi were entirely incorrect and grossly misleading. (More on this later)
It should be noted that Popular Mechanics realized its error by initially following the misleading journalistic tide. After posting an article saying the radiation levels at F. Daiichi were increasing, it later updated the report with the following disclaimer, "This post has been updated to clarify that the radiation readings, while new, do not reflex any change at Fukushima, but are rather new information coming to light. We regret the error." (6) This reporter has seen no other correction in the Press outlets we monitor, both inside and outside Japan.
On the other hand - adding insult to injury - the antinuclear sites across the internet jumped all over Forbes' use of the term "spiked" and took it to new extremes. The widely-cited True Activist posted (7), "Radiation at Fukushima spikes to highest levels since 2011", and "…radiation inside the containment vessel of one of the plant's failed reactors has now reached levels undetected since the disaster first occurred in 2011." It further said Tepco told the Japan Times that the cause was a 2-meter in diameter hole "likely caused by melted fuel". This is a complete fabrication! Tepco neither posted anything like this out of its formal Pressroom, nor told the Times anything of the sort!
A more egregious violation of truth was posted on the antinuclear circuit by Science Alert. (8) It said "The radiation levels inside Japan's damaged Fukushima Daiichi nuclear reactor No. 2 have soared in recent weeks, reaching a maximum of 530 sieverts per hour, a number experts have called 'unimaginable'. Radiation is now by far the highest it has been since the reactor was struck by a tsunami in March 2011 - and scientists are struggling to explain what's going on… Exactly what's causing the levels to creep upwards again is currently stumping the Tokyo Electric Power Company (Tepco)." But, nothing like this was actually occurring! Undaunted, Science Alert openly fabricated the notion that Tepco sent in "swimming robots" last year, but their wiring was destroyed by the high radiation. This reporter has scanned the Japanese Press daily since 3/11/11, and can safely say that this never happened! What's "unimaginable" is Science Alert's defilement of the truth!
So, what is the truth?
The singular posting we can find that has accurately reported [in keeping with our professional understanding of the situation] is Safecast. Safecast is a citizen-based network that was created after the Fukushima accident to try and get the truth "out there" from a source that is not government or industry-based. Its post is headlined thusly, "No, Radiation Levels at Fukushima Daiichi are Not Rising". (9) The article then states, "…many news outlets have published stories with headlines like [The Guardian's] 'Fukushima nuclear reactor radiation at highest level since 2011 meltdown.' This has led to a number of alarming stories claiming that radiation at Daiichi has "spiked" to unprecedented levels. That's not what the findings indicate, however." (Emphasis added) In fact, Safecast's independent monitoring system at F. Daiichi has shown that radiation levels are on the steady decline. Safecast's bottom line is, "…it (the 530 Sv/hr estimate) does not mean that levels there are rising, but that a previously unmeasurable high-radiation area has finally been measured."
Nothing more, and nothing less! Radiation levels are not rising! And, it's from a source with no government or industry involvement! There can be no more-credible source!
(For additional information, see Will Davis' "Radiation Levels Not 'Soaring' at Fukushima Daiichi" http://ansnuclearcafe.org/2017/02/07/radiation-levels-not-soaring-at-fukushima-daiichi/#sthash.gLRkguYr.Y4agVJfQ.dpbs )
References:
1 - http://www.asahi.com/ajw/articles/AJ201702030064.html
2 - http://www.japantimes.co.jp/news/2017/02/03/national/fukushima-radiation-level-highest-since-march-11/#.WJoee9K7odX
3 - https://www.theguardian.com/environment/2017/feb/03/fukushima-daiichi-radiation-levels-highest-since-2011-meltdown
4 – http://www.indiatimes.com/news/world/nuclear-radiation-at-highest-level-since-2011-meltdown-at-japan-s-fukushima-reactor-270867.html
5 - http://www.forbes.com/sites/williampentland/2017/02/03/extreme-radiation-levels-detected-at-fukushima-reactor-highest-since-2011/#34c6e0b63381
6 - http://www.popularmechanics.com/technology/infrastructure/a25034/radiation-spikes-fukushima-possible-breach/
7 - http://www.trueactivist.com/breaking-radiation-at-fukushima-spikes-to-highest-levels-since-2011/
8 - http://www.sciencealert.com/radiation-levels-in-the-fukushima-reactor-have-started-unexpectedly-climbing
9 - http://blog.safecast.org/2017/02/no-radiation-levels-at-fukushima-daiichi-are-not-rising/
January 1, 2017
339thCarnival of Nuclear Energy Bloggers
The Hiroshima Syndrome's Fukushima Commentary is proudly hosting the 2017 New Year's edition of the Carnival of Nuclear Bloggers. To sweep out the old year, and usher in the new, we have postings by Dan Yurman, Dr. Gail Marcus, Milt Caplan, the IAEA, Meredith Angwin, and (yours truly) Leslie Corrice.
We will have no Fact or Fiction (?) quiz for this week…
To read the full articles, please click on the individual links. Blog topics for this edition include… The NRC's need to prohibit disruptive chaos at public meetings, Toshiba's financial dive put nuke projects at risk, Intellectual property in the digital age, a stern goodbye to Vermont's Governor Shumlin, and two end-of-the year reports of very good news from Japan.
* * *
Two submittals from Dan Yurman…
…at ANS Nuclear Cafe –
NRC's Work in Progress on Public Meetings
http://ansnuclearcafe.org/2016/12/28/nrcs-work-in-progress-on-public-meetings/#sthash.SdwvQZP0.dpbs
(and)
… at Neutron Bytes –
Toshiba's Financial Meltdown Puts Its Nuclear Projects at Risk Worldwide
https://neutronbytes.com/2017/01/01/toshibas-financial-meltdown-puts-its-nuclear-projects-at-risk-worldwide/ (It is important to note that this report is but the tip of this week's Neutron Bytes blog. Also included are articles on possible closure of Davis-Besse, Russia's ambitious targets to maintain its nuclear fleet, India's trial run of a new PHWR, and more. Lots of good stuff from Dan.)
From Dr. Gail Marcus at Nuke Power Talk – (2)
Dammed if they do…Dammed if they don't
. http://nukepowertalk.blogspot.com/2016/12/dammed-if-they-do_60.html
(and)
Conferences and Technology: Intellectual Property in the Digital Age
http://nukepowertalk.blogspot.com/2016/12/conferences-and-technology_29.html
From Milt Caplan at MZ Consulting –
2016 was a challenging year for nuclear power – or was It?
http://mzconsultinginc.com/?p=857
From Dr. Jim Conca at Forbes Magazine –
It Takes the Right Rock to Sequester Carbon
http://www.forbes.com/sites/jamesconca/2016/12/27/it-takes-the-right-rock-to-sequester-carbon/#416c2537bfd1
From The International Atomic Energy Agency –
IAEA Highlights and Achievements in 2016 – A Year in Review
https://www.iaea.org/newscenter/news/iaea-highlights-and-achievements-in-2016-a-year-in-review
From Meredith Angwin at Yes Vermont Yankee –
Hello Governor Scott, and Goodbye Shumlin
http://yesvy.blogspot.com/2016/12/hello-governor-scott-and-goodbye-shumlin.html#.WGbVzjLMwUE
From Leslie Corrice at Fukushima Accident Updates –
Though I usually refrain from submitting my twice-weekly posting on the most recent developments in Japan, this time there are two that beg for inclusion…
December 29, 2016 Posting
First, Japan's Nuclear Regulation Authority's latest Pacific Ocean data shows that ocean contamination from Fukushima Daiichi has stopped. Secondly, Tokyo allows Tepco to freeze the remaining "ice wall" sections. http://www.hiroshimasyndrome.com/fukushima-accident-updates.html
* * *
Happy New Year Everyone!
November 20, 2016
335thCarnival of Nuclear Energy Bloggers
The Hiroshima Syndrome's Fukushima Commentary is proudly hosting the latest edition of the Carnival of Nuclear Bloggers. This week, we have postings by Dan Yurman, Dr. Gail Marcus,
Here's the Fact or Fiction (?) quiz for this week… High level nuclear waste, primarily used nuclear fuel bundles, is deadly for more than 10,000 years.
Now…for this week's Blogs. To read the full articles, please click on the individual links. Blog topics for this edition include…
* * *
From Dan Yurman at Neutron Bytes –
Will completion of Bellefonte be a boom or bust?
https://neutronbytes.com/2016/11/19/will-completion-of-bellefonte-be-a-boom-or-bust/
From Dr. Gail Marcus at Nuke Power Talk – (2)
Innovative Nuclear Energy Systems: A Fascinating Symposium
http://nukepowertalk.blogspot.com/2016/11/innovative-nuclear-energy-systems.html
(and)
Waste from Solar Panels: End-of-Life Challenges
http://nukepowertalk.blogspot.com/2016/11/waste-from-solar-panels.html
* * *
Here's the Fact or Fiction (?) answer for this week… Fiction!
Used nuclear fuel can be recycled to make new fuel, leaving about 5% of the used furl bundles as radioactive by-products. More than 90% of these by-product elements lose their radioactivity in less than five years. The remaining waste will require a storage time of less than 300 years. Finally, less than 1% of the by-products are radioactive for 10,000 years, but still having much shorter half-lives than the original uranium in the un-used fuel. In fact, the long-lived activity is less radioactive than some things found in nature. (K.S. Krane, Introductory Nuclear Physics, John Wiley and Sons, 1988)
October 23, 2016
331st Carnival of Nuclear Energy Bloggers
The Hiroshima Syndrome's Fukushima Commentary is proudly hosting the latest edition of the Carnival of Nuclear Bloggers. This week, we have postings by Dr. James Conca, Meredith Angwin, Jessica Lovering, Dan Yurman, and Dr. Gail Marcus.
Here's the Fact or Fiction (?) quiz for this week… Guacamole almost as radioactive as bananas.
Now…for this week's Blogs. To read the full articles, please click on the individual links. Blog topics for this edition include… Fukushima apples featured in a world cocktail competition, how the Vermont Yankee decommissioning fund helps schools, why Britain's Hinckley Point C is not a stealth military project, the case for a nuclear energy investment bank, and how replacing CFCs with HFCs might not be a good choice.
* * *
From Dr. James Conca at Forbes Magazine –
Fukushima Apples Are Dynamite In Cocktails
http://www.forbes.com/sites/jamesconca/2016/10/19/fukushima-apples-are-dynamite-in-cocktails/#34ea856d16c3
From Meredith Angwin at Yes Vermont Yankee –
Vermont Yankee Decomm Fund Supports Local Schools
(guest post by Guy Page)
http://yesvy.blogspot.com/2016/10/vermont-yankee-decomm-fund-supports.html#.WAk9cjKZMUE
From Jessica Lovering of The Breakthrough Institute –
Britain's Civilian Nuclear Program Is Not a Stealth Military Program
http://thebreakthrough.org/index.php/voices/britains-civilian-nuclear-program-is-not-a-stealth-military-program
From Dan Yurman at Neutron Bytes –
The Case for a Nuclear Energy Investment Bank
https://neutronbytes.com/2016/10/22/the-case-for-a-nuclear-energy-investment-bank/
From Dr. Gail Marcus at Nuke Power Talk –
More Unintended Consequences: Air Pollution versus Climate change
http://nukepowertalk.blogspot.com/2016/10/more-unintended-consequences.html
From Andy Dawson at Energy Matters –
UK Electricity 2050 Part 1: a demand model
http://euanmearns.com/uk-electricity-2050-part-1-a-demand-model/
From Brian Wang at Next Big Future –
First two generation 3+ nuclear reactors will be operation in China by the end of this year
http://www.nextbigfuture.com/2016/10/first-two-generation-3-nuclear-reactors.html
* * *
Here's the Fact or Fiction (?) answer for this week… Fact.
A recent scientific study found that many common household items are detectibly radioactive, including foods. Most people already know that bananas are radioactive, as well as potatoes, carrots, lima beans, red meat, low sodium table salt, beer, and brazil nuts, But, no we know that guacamole must be added to the list. Researchers from North Carolina State University found that the avocado is almost as radioactive as the banana: 0.16 micrograys per hour vs. 0.17 µGy/hr. Is this a lot? Of course not. It is trvial, and much, much less than any reasonable level of concern. By the way… carrots top the list as perhaps the most radioactive food, at more than double the level of avocados and bananas, closely followed by brazil nuts. https://news.ncsu.edu/2016/10/radioactive-avocado-2016/ -- http://www.houstonpress.com/restaurants/8-foods-you-didnt-know-are-radioactive-6410052
September 18, 2016
326

th

Carnival of Nuclear Energy Bloggers
The Hiroshima Syndrome's Fukushima Commentary is proudly hosting the latest edition of the Carnival of Nuclear Bloggers. This week, we have postings by Meredith Angwin, Dr. James Conca, Gail Marcus, and Dan Yurman.
Here's the Fact or Fiction (?) quiz for this week… James Chadwick was the first to theorize the existence of the neutron, an –uncharged sub-atomic particle.
Now…for this week's Blogs. To read the full articles, please click on the individual links. Blog topics for this edition include… Comparing the French failure to build the Panama Canal with the "renewable mandates" requirement in Vermont, how Asia may be the reason behind the variability in oil prices, self-driving cars and nuclear power, and UK's Hinkley Point gets a "green light".
* * *
From Meredith Angwin's Yes Vermont Yankee –
The Panama Canal and the Renewable Mandate: Guest post by Guy Page
From Dr. James Conca at Forbes Magazine –
Wobbling Asian Demand Is a Problem for Oil Industry
From Gail Marcus at Nuke Power Talk –
Self-Driving Cars and Nuclear Power
From Dan Yurman's Neutron Bytes –
UK's Hinkley Point Nuclear Project Gets Green Light
* * *
Here's the Fact or Fiction (?) answer for this week… Fiction.
Chadwick is credited with the discovery of the neutron, but his mentor, Ernest Rutherford, is believed to be the first to theorize on its existence. Rutherford discovered the proton in 1919, but protons-alone could not account for the mass of atomic nuclei. Many researchers had pondered this problem, but Rutherford was the first to postulate there was another, albeit uncharged particle in the nucleus. He called it a neutron, and imagined it as a closely paired proton and electron. Chadwick published his "Possible Existence of a neutron" in 1932, and was awarded the Nobel Prize on 1935.
http://chemistry.bd.psu.edu/jircitano/neutron.html
September 4, 2016
NY Times Needs To Get Its Fukushima Facts Straight
On August 29th, the New York Times the article Japan's $320 Million Gamble at Fukushima: An Underground Ice Wall. (1) The report is fraught with speculations and FUD – appeals to Fear, Uncertainty, and/or Doubt - with respect to Fukushima's impermeable "ice wall" project. The Times is usually a source of reliable information, but the newspaper fumbled this one.
In the fourth paragraph, the speculations begin. While correctly stating that the ice wall will act as a dam to keep groundwater from flowing into the basements of the four damaged F. Daiichi units, it incorrectly says, "It will also help stop leaks of radioactive water into the nearby Pacific Ocean." Actually, the ice wall has nothing to do with the assumptive leakage of contaminated groundwater into the Pacific. Either the Times failed to keep up with Tepco postings about the ice wall over the past year, or the news outlet doubts the utility's reports. Actually, a steel and concrete impermeable wall has been sunk deeply into the earth along more than 700 meters of the shoreline to prevent contaminated groundwater reaching the sea; not the inland ice wall.
The Times report mentions that Tepco's shore-line wall has stopped all "measurable leaks" to the open sea. But, uncertainty and doubt are immediately injected with the statement, "Some scientists say that radioactive water may still be seeping through layers of permeable rock that lie deep below the plant, emptying into the Pacific far offshore." As we shall soon see, this is not true. No such permeable layer exists that extends far out to sea, and never has existed.
The Times says Tepco built the power station by cutting away the shore's hillside, which is true. But, this was not done "so that the plant could pump in water more easily.
"
The hillside was actually lowered (not removed) to facilitate building a break-walled harbor so that large, heavy plant equipment (like the reactor pressure vessels) could be shipped in without use of roads or railroads. Thus, we have a completely unfounded speculation.
Immediately following is the false assumption about the plant being built on permeable rock. The Times says the hillside removal "…put the buildings in contact with a deep layer of permeable rock filled with water…" The underlying bedrock beneath the plant is impermeable metamorphic ge0ology (granitic)! (2,3) There was some sandstone above the bedrock that terminated at the cliff along the pre-construction shore-line, but it did not extend "far out to sea". The sandstone was removed to effect the port's construction, then backfilled with soil and gravel which now surrounds the basement walls. The groundwater flow is above the bedrock through the mixture of soil and gravel. The rock under the reactor buildings is not permeable, so it cannot be filled with water.
Next we have two overlapping fallacious statement. The first concerns the in-leakage of ground water (plus leaks from the damaged units), "The continual flood of radioactive water has prevented engineers from searching for the (formerly molten) fuel." The actual reason for not yet making a physical search is the high radiation levels inside the Primary Containments of units #1, 2 & 3! Staff could only spend a precious few minutes in such an environment before exceeding an exposure limit. In addition, the Times says no-one knows where the re-solidified fuel (corium) is located. Muon tomography has shown that the greater majority of the corium for unit #2 is inside the reactor Pressure Vessel's bottom head, while a small fraction still remains in the core barrel above the head. It did not melt "…through the reactor's steel floors and possibly into the basement underneath." It seems the NY Times is trying to keep uncertainty and doubt alive concerning location of the corium at F. Daiichi.
Subsequently, The Times tries to connect the constant build-up of stored water in nearly 1,000 large tanks to the ice wall. To the contrary, the massive storage problem has nothing to do with the ice wall. About 95% of the water now stored in these tanks has been purified, removing all but one of the contained radioactive contaminants. The remaining isotope is Tritium; a biologically-harmless, albeit naturally-occurring form of Hydrogen. The only reason these hundreds of thousands of gallons of cleansed waters are not being released to the sea is radiation-based misconceptions and rumors about "tainting" the food-fish caught off the Tohoku coast. Nothing of the sort would happen if it were all released, but extreme radiophobia is a powerful hurdle to overcome in Japan.
Next, the Times continues the onslaught of uncertainty and doubt. While freezing large volumes of soil has been successfully used to bore massive tunnels around the world, the Times adds, "…but not on this scale. And certainly not on the site of a major nuclear disaster," which really makes no difference. But, anything associated with a nuclear plant is always made to seem unique and inordinately iffy. In addition, the Times evokes unidentified "skeptics" who infer that the ice wall is actually "more like a sieve" because a fraction of a percent of the wall has yet to fully freeze and Tokyo requires that a half-dozen sections must not be solidified.
Then, unidentified critics are evoked who say the ice wall is merely a temporary fix, the refrigerant is corrosive and could fail catastrophically, and (of course) no-one knows how the technology will hold up "in a high radiation environment".! The Times obviously doesn't know that a high radiation zone is defined as having exposure levels in excess of 100 millisieverts per hour. (4) None of ice wall comes close to this level.
In closing, the Times cites a former construction minister (I cannot find a listing for a Construction Ministry in Japan) who makes the following provocative statement, "Why build such an elaborate and fragile wall when there is a more permanent solution available?" He wants a 100 feet deep, mile-long trench dug around the four buildings and filled with "liquid concrete that is commonly used to block water." Thus, a speculation is offered as the ultimate solution! But, the article overlooks the fact that flow of contaminated water into the four damaged unit's basements will continue because of leaks cooling water pumped into units #1, 2, & 3! The ice wall might stop the influx of groundwater, but not the hundreds of gallons per day from system leaks!
The waste water problem at F. Daiichi is not what the Times purports. The problem is, was, and will continue to be Japan's widespread fear of the radiation bogeyman.
August 20, 2016
Does the Asahi Shimbun Comprehend the F. Daiichi Ice Wall's Purpose?
On Friday, August 19, 2016, the NRA said the F. Daiichi "ice wall" is failing. (1) Nuclear Regulation Authority panel member Yoshinori Kitsutaka explained, "The plan to block groundwater with a frozen wall of earth is failing. They need to come up with another solution, even if they keep going forward with the plan."
The Asahi Shimbun alleges that the report of failure is because the amount of groundwater flow on the ocean-side of the wall remains constant. The Asahi fails to understand that the ice wall is only supposed to change flows inside, not outside the wall. This should be self-evident by reading the first bullet on the cover page of Tepco's weekly report on the thermal status of the wall, "The purpose of the Landside Impermeable Wall construction lies not in freezing soil to form an underground wall but in keeping groundwater from flowing into the reactor/turbine buildings and preventing new contaminated water from being generated." (2)
The Asahi's materially-incorrect assertion is analogous to someone building a tall fence to keep deer out of their garden, but calling it a failure because the number of deer seen outside the fence has not changed! The F. Daiichi "ice wall" is designed to keep the groundwater inside the fence from flowing outward and possibly contaminating fresh groundwater flowing from the mountains to the sea. Thus, it makes no rational sense to assume that the NRA's judgment of "failure" is because groundwater flows outside the ice wall have not changed.
So, where did the Asahi get this incorrect idea from? Is it merely an inability to correctly decipher Tepco's statement of purpose posted with each and every weekly report? That seems unlikely, to say the least. Surely the staff at the Asahi can read and comprehend! Or, is the Asahi continuing its aversion to statements posted out of the Tepco Press room? Perhaps, but the data being used by the newspaper to make its "failure" rationale is entirely coming from Tepco! In this case, the Asahi would be accepting the data but rejecting Tepco's statement of purpose, which would be contradictory. This would also suggest a most egregious form of cherry-picking.
The only remaining option is that the Asahi has garnered the incorrect notion from the NRA! If this is the case, we are faced with a far worse situation. The NRA is supposed to have sufficient engineering and technical expertise to regulate with expert capability. But, if it promotes this sort of misinformational speculation - and proffers it as fact - then we have a regulatory failure!
The reason for our critical questioning of the Asahi is that it has the second-largest, circulation of all newspapers in Japan (12 million), exceeded only by the Yomiuri Shimbun (14 million). The Asahi is read by at least 10% of Japan's adult population, thus it is an important source of information in the minds of a significant number of Japan's citizens. That this news outlet provide its readership with correct information, seems essential. Utterly false reporting should be avoided like the plague! It doesn't matter where the untrue information came from. The Asahi is historically an antinuclear bastion, without question. But, an on-going pursuit of the nuclear-critical persuasion, which flies in the face of truth, is unforgivable! The people of Japan deserve better.
July 30,2016
It's Official: F. Daiichi Unit #2 was not a Melt-Through
On July 28, 2016, Tepco posted a detailed handout showing Unit #2's previously-molten fuel (corium) is re-solidified and remains inside the reactor vessel (RPV). This conclusion was drawn as a result of muon imaging, with a dark "shadow" covering the interior of the RPV's bottom head. (1) One obvious deduction is drawn by the Asahi Shimbun, which says that past speculations of a unit #2 melt-through are probably incorrect. (2) It says, "The latest finding negates past studies that have suggested that most of the nuclear fuel inside the reactor had melted through the vessel." Unfortunately, the Asahi has been the only news outlet in Japan to make such a flat statement. Could the Asahi be incorrect?
On page four of the handout, we can see that most, if not all of the corium remains in the bottom head of the RPV. The image also shows that some of the damaged fuel is still in the core area, where it was located before the March, 2011, tsunami-spawned nuclear calamity. If we compare the unit #2 core barrel image with the March 19, 2015, image of unit #1, we see a drastic difference. (3) Unit #1's core barrel showed brightly, indicating full meltdown and core relocation. The core was no longer there. However, the unit #2 image does not have a nearly as bright core barrel appearance. In fact, it is quite possible that a small-but-significant fraction of the original core remains in its original location. In fact, Tepco admits that at least 20 tons of material remains. Based on the relative density of the shadowing in the unit #2 core barrel region, with literally no brightness to indicate complete degradation from top to bottom, it is entirely possible that the maximum estimation of fuel (50 tons) remains in the core barrel region.
Where do these numbers come from?
Page six of the handout states that of the 210 tons of fuel and support structures that originally comprised the undamaged core, 20-50 tons remain in the core barrel area and "about 160 tons" is collected in the RPV's bottom head. The inherently limited resolution with muon imaging compels an approximation of the respective masses. The 20-50 tons estimation leaves the door open for continuing speculation that as much as 14% of the core might possibly have worked its way through the bottom head and re-solidified on the base-mat beneath the RPV.
At this point we might ask… why leave the door of worst-case speculation open? If there had been any significant melt-through of the bottom head - and as much as 30 tons is pretty significant – the molten condition of the corium would possibly have cascaded through the breach. That there is a substantial pooling in the bottom head strongly suggests that if there were any melting-through, it must have been a mass much less than 30 tons. In fact, it suggests the possibility that there was no melt-through at all.
So why is Tepco leaving the door open for partial melt-through speculations?
Tepco has long-succumbed to Press and political pressure to accommodate worst-case scenario speculations. This is one time its "conservative" reporting has shown them to be timid and unwilling to draw a firm conclusion that flies in the face of their previous computer-based speculations. For more than three years, Tepco and the Nuclear Regulation Authority have made status reports that entirely cater to worst-case speculation, no matter how thin the evidence for such conjecture might be. In the case of the unit #2 muon image, worst case assumption ought to be rejected.
It is time for Tepco and the NRA to assert themselves and draw a conclusion that is most likely. When compelling evidence emerges that literally demands rejection of the low-probability worst-case scenario, there should be no room left for the worst-case scenario to perpetuate!
The Fukushima Daiichi Unit #2 muon scanning image virtually demands that we conclude that there was no compromise in the lower RPV head. It is likely that none of the corium, while still molten, made its way through the head or any of the penetrating control rod drive mechanisms (CRDM). To conclude otherwise make no sense to this reporter!
References:
1 - https://www4.tepco.co.jp/en/nu/fukushima-np/handouts/2016/images/handouts_160728_01-e.pdf
2 - http://www.asahi.com/ajw/articles/AJ201607290050.html
3 - https://www4.tepco.co.jp/en/nu/fukushima-np/handouts/2015/images/handouts_150319_01-e.pdf
February 20, 2017
348thCarni